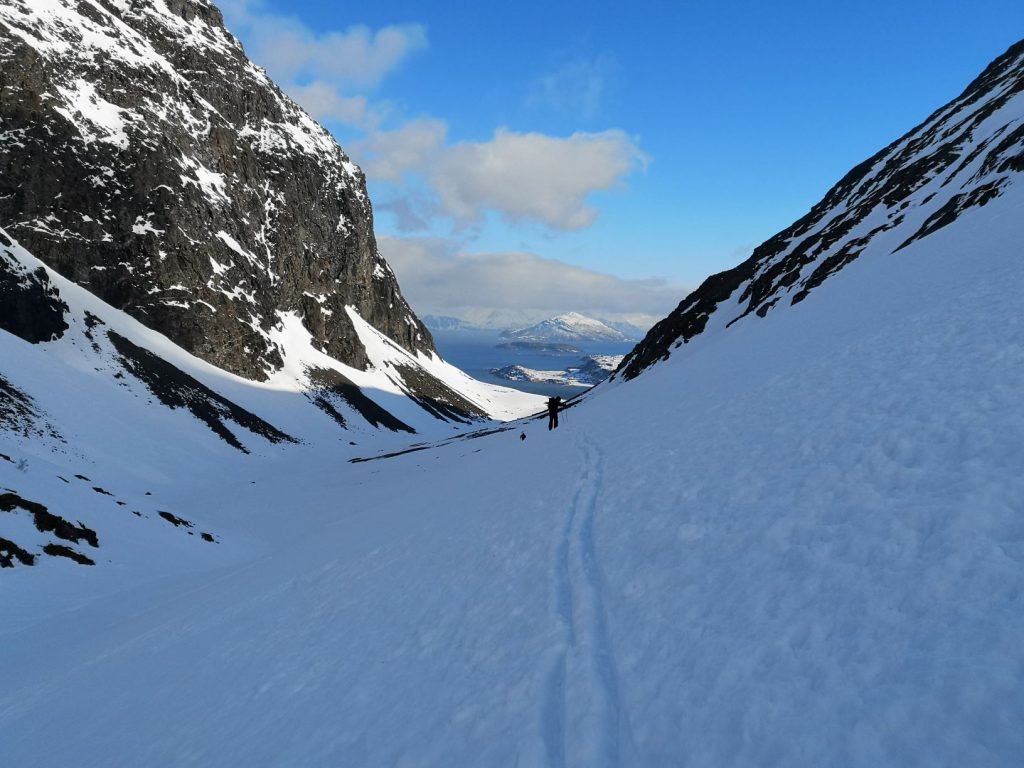 The Lyngen peninsula is almost completely surrounded with a road, with the exception of the North eastern side. So if you are looking for a mountain where the only tracks will be yours, you have to sail somewhere else. Not far, actually, but far enough to need your own private boat. A few islands offer challenging mountains, Amazing views and pristine snow where you will be the first to leave a track. Being 'out there also means that you have the unique sensation that you are skiing with the Ocean at your feet. And a rather big ocean at that.
Senja is by far the most dramatic island in Norway and one of the wildest on the planet. With 10 deep fjords separating an equal number of 1000m high crests, plus a wide selection of peaks in the middle, and the whole Atlantic surrounding two if its four sides, the island offer a lifetime of exploration. There is a catch: the sea around Senja is even wilder then its geography, so not all possible trips can be given for granted. We will offer a special Senja discovery cruise at the very beginning of the season during the crossing between Bodo and Tromso. We will certainly stop and ski at Finnsness and Botnhamn, then weather permitting we will sail to Husoy and Senjahoppen to go for the highest peaks. Approx dates will be March 7 to 15.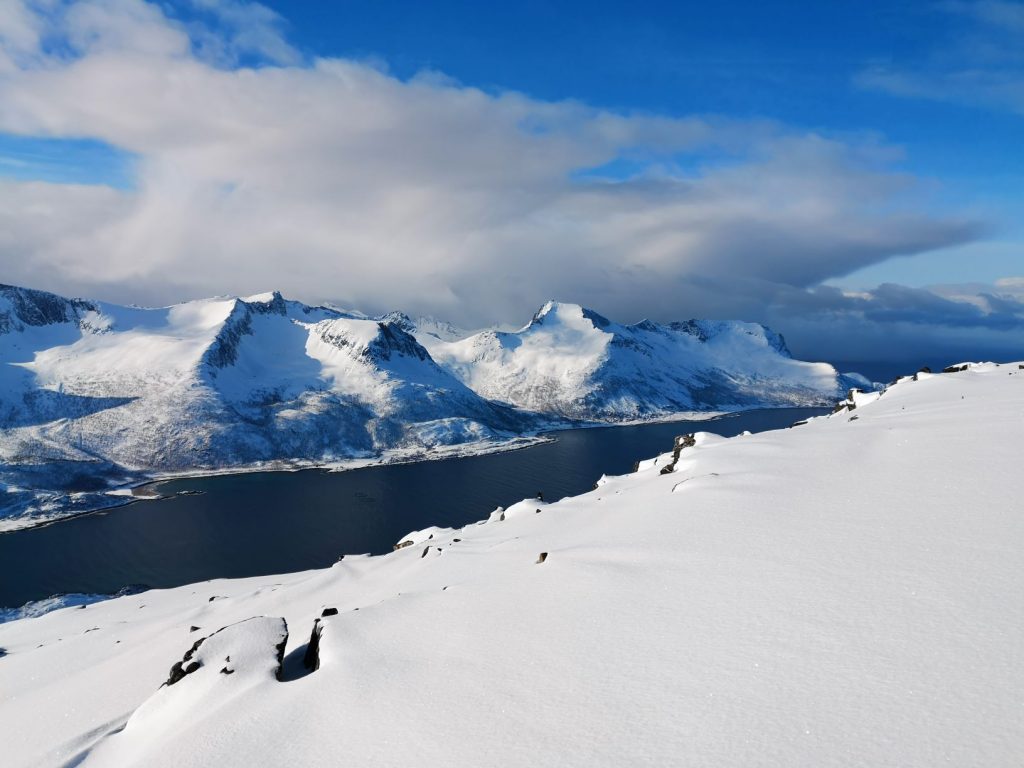 Vannoya is one of our favourites. Two 1000 metres peaks offer safe ascents and an Amazing combinations of descents. A very convenient bus drives around the island and the drivers are kind enought to advise about the best starting and pick up points. The locals are very helpful and welcoming, and the port is a real old style public wharf with a friday night ferry straight to Bodo.
Kagen (pictured afar in the header image) is equally welcoming but the peaks are more demanding. The crossings between the east and west sides are among the highlights of the region. Skjervoy has a magnificent port and good busses and ferry connections. A must.
Arnoya is even more remote and deserted, although not as high as her counterparts. Excellent for the brave skiers who would like to taste the swell of the Atlantic to reach the northern Harbour of Arviksand and then ski down facing the immense and bluest Atlantic ocean.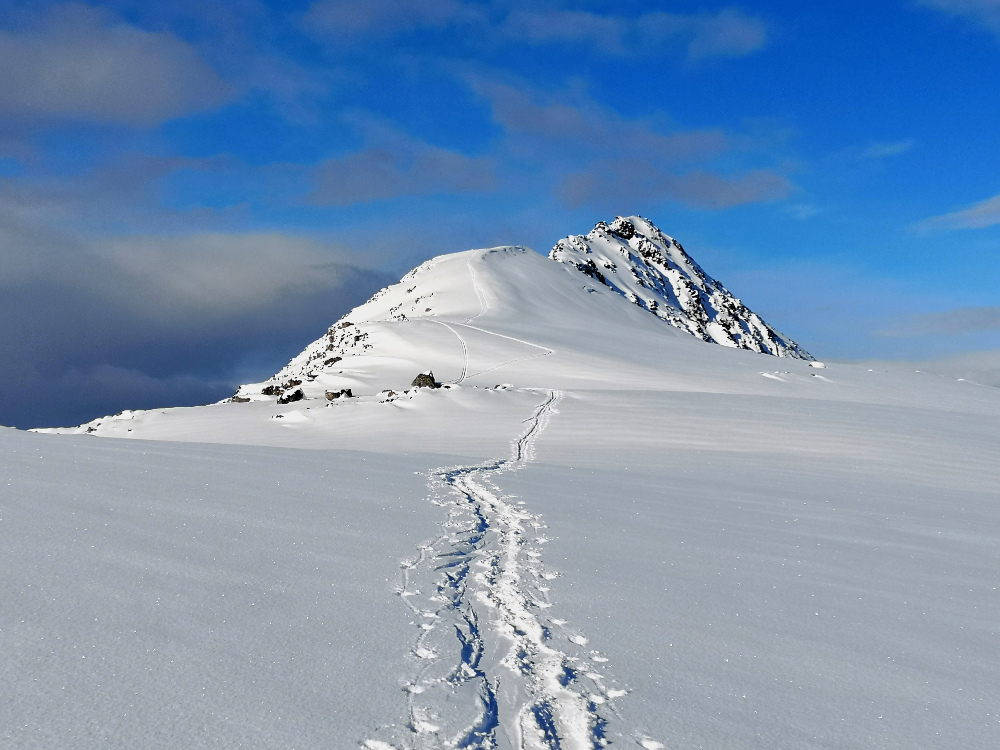 Practical information
When: custom departures between March 1 and May 1 without mountain guide. Departures March 13 and March 21 with mountain guide.
Where: cruises start and end very close to the airport of Tromso. Occasional one way cruises to and from Skjervoy.
Weather: classic Atlantic winter weather, changing frequently. At least 2 bad weather days must be expected. Temperature ranges between –13 and 0. Water in harbours occasionally freezes. Wind conditions vary greatly and a couple of windy or even gale days can be expected but most sailing is done in sheltered waters. Seas are generally calm or choppy in the fjords. Snow conditions are always excellent in March and varies in April depending on the wind.
Aurora Borealis: the area is blessed with magnificent Auroras, that can be enjoyed until around April 10, very rarely later as the light is often excessive
Route: the cruise is organized according to the weather between Tromso and Skjervoy. The harbours used are Oldervik, Nordlenangen, Skjervoy, Vannvag, Lyngen and Uloy. Basic services such as electricity are present in all harbours.
Vessel: Swan 44 Cadeau. The cruises with mountain guide will be with 2 vessels.
Equipment: the normal skialp equipment will be fine on the boat as well. Sleeping bag is essential. Ski equipment can be rented in Tromso at around 280 euros a week.
Charter rates and cruise types:
· without mountain guide: 1000 euros for 8 nights/7 days cruise, plus shared expenses (average 150 euros per person per week)
· With mountain guide (minimum 6 pax): 2800 euros a week included flights within Europe, full board
A typical day: according to the weather, skiing is generally arranged around the middle of the day, while sailing in the morning or during the evening if necessary. Sailing pleasantly among the Norwegian islands covered with snow is simply magnificent and we often search for a perfect line of ascent while sailing silently right under the slopes.