Sailing expeditions in Norway
CCadeau is a Sparkman & Stephens design Swan 44 built in Finland in June 1976, expressively for the members of the exclusive New York Yacht Club. The boat was specifically designed for ocean racing, therefore speed and strength are her main qualities. But the demanding members also required luxury and comfort, so Cadeau welcomes her guests with a charming interior of teak, books and luxury Kenzo textiles.
Technical data
Length: 13,4 metres, 44 feet
Beam: 3,86 metres, 12,6 feet
Draft: 2,1 metres, 7 feet
Displacement: 14 tons
Guests: max 4
Builder: Nautor Oy
Engine: Perkins 4.108M 37hp
Cadeau has been delivered with a Lloyd's Certificate for Hull Construction
Accomodation
Aft stateroom with a double and a single bed; fore double cabin;  main saloon with table for 6 and 2 pilot berth; one spacious head, wide galley and chart table.
Amenities
Double heating system, diesel and electric, gourmet wooden dishes and wine glasses, flat screen TV, music system, Ego logbook editor, sailing library.
Fore triangle 50 sq. m.
Main: 37 sq. m
Genoa: 75 sq. m
Spinnaker: 180 sq. m.
Mast: 18,8 m from deck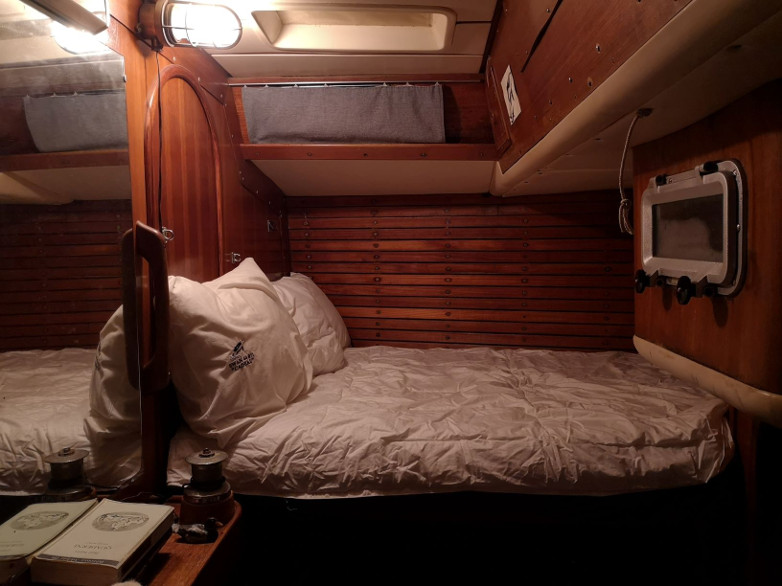 The Rough Guide to our Swan 'Cadeau'
Orientation
Although many might find it hard to understand maritime terminology, a few items are essential: the bow is the thinner end, while the stern is the rounder. A boat tends to proceed bow first. The pole in the middle is called mast and goes through the deck, which is both, a floor and a ceiling. The cockpit – no idea why it is thus called, probably in the old days the bored mariners used to organize cockfights – is the place you should never leave in heavy weather. As you might easily imagine, the round thing in the cockpit is the steering wheel. There are also instruments and a throttle, but mind: there are no brakes. The helm station is at the extreme rear, comfortable for the helmsman with all the instruments a serious helmsman must need in front of him. That means the sails and three compasses. Wind instruments and such trivial modernities have been swept away in the roaring forties and only pure poetry is left as a guide for the man at the helm, thus dramatically improving his/her sensitivity.
Right in front we find the cockpit. The origin of this name is unclear, especially when applied to a boat. With the table beautifully set for six with wooden dishes and wine-tasting glasses, the music and the sun setting, one can hardly imagine cocks fighting. Maybe things might be more understandable in tough navigation, with a serious mess of winches, lines, handles and arms spinning furiously to tack or gybe the 14 tons wwa (without wine aboard), not to mention the killer huge boom right over the head that can swing at 40 miles per hour, playing golf with the incautious head, and the attached sheets ready to hang without preference of age, sex and race. Tough navigation is rarely attained during charters, so don't worry.
When to go
Cadeau likes to stay on the dry for the colder months – October to June. This is therefore the best time to visit if you suffer from seasickness.
Getting around
From the cockpit the companionWAY (as opposed to the companionSTAY, considering the love of simply everyone to sit here) leads to the ladder, thence to the wonderful all-teak, blue-carpeted cabin. Right to the left the galley, Marco's private and absolute kingdom, rich in spices, herbs, implementa, huge fridge, cups, glasses and secret ingredients. To the left the other Marco's private place, the navigation area, with pc, radar, GPS, electric panel, autopilot controls, charts, books and so on. Every single one of the miles of cables in the ship passes through here. In front of the galley/navigation area we find the living area. The huge mast in the middle will NOT be drilled to allow better conversation, as some jokers suggested. Comfortable settees for 6, two berths by the sides, all teak and two 7-feet long bookshelves mostly filled. These books have the deplorable tendency to fall down when the vessel leans by the side, a contingency that happens frequently because Cadeau is a seriously canvassed and powerful lady. At this point Marco reminds to block and jam them decently. A story apart deserves the 'heads', which is the maritime name for the toilet. It's big by boat standards, with large lockers and a big sink, and you can easily shower inside. The bowl itself is often object of long discussions, which can be synthesized with the views of two philosophical schools. The practical one, led by the skipper, worshipping the quality and reliability of the world renowned Blake brand, that makes loo-shaped and proportionally expensive jewels. The other, led by some women, points out that the pump requires a certain effort to manoeuvre, hence the reply, quoted from the famous 'Lecky's wrinkles in practical navigation', that 'sailors are not women'. If you belong to the second school, skipper is willing to provide, discreetly, the necessary effort. Update: the Blake has been substituted for a more modern and user-friendly thing.
Coming back on the deck, the area between the companionway (where one should be careful not to fall in, like Andy) and the mast is seriously devoted to sailing, with a battery of seven winches for spinnakers, reefing lines, halyards and topping lifts. Still, in normal days it provides a series of comfortable suntanning spots. The area in front of the mast is rather unencumbered and dedicated to sunbathing, diving, relaxing and poetical flights. Provided, again, one does not fall into the other companionway.
Accomodation
The port door leads to the aft stateroom, huge to 44-long vessels standards, with a double AND a single bed, plus settee in the middle, locks, portholes, mirror, and plenty of storage places. Even if it is big, please leave rigid suitcases at home, if possible. Only one might fit in the tunnel leading to the aft maintenance station. Linen is broidered with the vessel's killer whale logo, and the linen itself is top quality cotton and ETRO brand. Plenty of books, mostly in English, on the two huge bookshelves. A very relaxing nestle…The second cabin lies in front of the living room, and it boasts a huge bed with companionway right on top for advanced stargazing at night (or a shorter way to the water in the morning). True, the bed lies on a seriously large sail selection, line collection and life ring objection, so it might be considered rather high by a Chinese. Still it's seriously wide and over 7 feet long.
Historical notes
Cadeau was delivered to his fortunate first owner, the Dutch CEO of Holland America Line, in June 1976. The same day the Swan 44 070, was delivered to his brother. According to the rumors, she was named Vandervoor, or bouccaneer. After some years of extensive racing in Europe, she was shipper to the United States for other races. In 1987 she was sold to Evan Schwab, a Seattle lawyer, who changed the name into Cadeau.
Evan sailed leisurely around the Puget Sound, Vancouver Island and the Strait of Georgia for 12 years, then decided that skying was very intriguing and decided to sell. Here is his brief story:
The original owner of CADEAU was Nico Van Vorm, from Holland. The original name was VRIJBUITER. Nico was the CEO and an owner of Holland American Lines. He originally sailed the boat in Holland then shipped it to New York when he transferred there. Sometime later Nico moved to Seattle so the boat was, I believe, trucked across the United States. I purchased the boat from Nico in 1987 and renamed her CADEAU. Nico purchased a new Swan 53. Unfortunately Nico died of cancer a few years later. I never did any offshore cruising but did take CADEAU around Vancouver Island three times. Last year I purchased a 48′ Ocean Alexander power boat; named it CADEAU, knowing that the swan was in Europe so no confusion would be created.
While strolling on the dock in Seattle the present owner saw her and placed a down payment in record time. Soon after he moved aboard and started cruising alone around the channel Island in Canada and the San Juan Island in Washington state. In the meantime this non-sailor planned a foolish cruise to Alaska, where tides reach 30 feet and tidal streams 18 knots, and searched crew and charter clients. Incredibly enough he found none of the former and enough of the latter, thus forcing himself on long months of loneliness broken by brief weeks of tremendous work. All along the cruise he kept planning an even more foolish plan, that is to sail out of Alaska and visit Patagonia, on the base that, being on the same continent, it was not too far away. Five other victims, two from Italy, two from the States and one from Canada, joined him with the plan to come back to Canada the following year.
Cadeau left the sheltered waters of the Puget Sound on October 15, 1999 and reached Patagonia on January 20, 2000, after over 9,500 miles of bluewater crossings via San Francisco, Los Angeles, Mexico, Galapagos and Easter Island.
Once in Patagonia the crew thought that sailing all that way and not seeing Cape Horn was stupid. Then soon after they decided that not seeing the Atlantic Ocean was stupid. Then that not visiting Argentina and Brasil was even more stupid. That's how the boat ended up in Argentina, well battered after a more or less continuous and no-maintenance period of 20,000 miles of sailing, mostly in high latitudes, a massive knock down, 34 gales, 5 storms, 3 hurricanes, 3 winch handles lost and 4 sails exploded.
After a period of relaxing maintenance and upgrading (she was finally gifted with double berths), Cadeau left for Brazil, where she chartered leisurely for a season. Then north towards the Caribean, and East to the Azores and the Mediterranean.
Cadeau entered Gibraltar in the last days of May 2004, then sailed in Corsica and Sardinia for the season. She overwintered in Bonifacio then sailed the Pontine and Aeolian Islands in 2005.
Since 1999, Cadeau sailed more than 200 passengers and crew, 46,000 miles, two oceans, and an endless number of bottles of wine and beer.
Dangers and annoyances
The main safety issue is 'DO NOT FALL OVERBOARD'. Hands on watch must be harnessed and any useless 'stroll' on deck in rough seas is not recommended. Funnily enough, many male bodies found at sea had the fly down. Its neither stylish nor safe to do outside what one can do in a toilet.
KIDS: when the boat is sailing or mooring kids will be friendly but firmly advised by the skipper, even in calm days, to either hook up or to remain in the cockpit, and to sit at the helm bench during manoeuvres. Parents are warmly advised to enforce this rule.
No plane, train and timetable has any prevalence to safety aboard. Over 50% of accidents at sea come from being on a rush at the end of a cruise. Until today, Cadeau has never been overdue and never betrayed any passenger's timetable, but this comes with a prudent planning of the voyage.
It is warmly recommended to keep hands off the main sheets while sailing, unless one knows how to use them. With a 20-k wind, those sheets can raise a saloon car and are turned religiously 3 times around the winch drum then into the self tailer. Any non-steel object between the sheet and the drum will be squashed, fingers included.
As a general rule, it's better not to fall off the boat than to think about rescuing a man over board. Think of yourself as standing on top of a skyscraper while the boat is sailing fast, especially downwind and in cold weather conditions. In warm and calm weather it is, on the contrary, very funny to swim in tow.
The vessel is full of stuff popping up from the dech: winches, cleats, shrouds, stays, stanchions, vents and so on: watch your step.
Stay away from the anchor windlass when in operation.
Report previously all your allergies to the skipper.
Watch the boom while sailing, especially downwind. Chinese gybes by uncautious helmsmen can swing it very fast with dangerous effects. Why undesired gybes are called Chinese is unknown. It probably comes from the deplorable tendency, in the old days, to 'loose' chinamen overboard either while manoeuvring or forcing them to measure speed with lines thrown overboard with knots.
While mooring, don't use hands and lifelines to fend other biats off, but feet and hulls.
Local governance
Cadeau can be considered an 'enlightened' dictatorship. 'If you want fair, you picked the wrong boat, and the wrong crew. And the wrong species'. House, Md.
Food and Drinks
Please refer to the menu and the dedicated pages.
Health
Pleague, hepatitis and malaria have been almost eradicated, although sexually transmitted diseases are always to be taken into account, being the use of condoms not strictly enforced by the local government.
Pets
No pets are allowed
Gay and Lesbian travellers
Cadeau has in the past welcomed a number of travellers listed in both categories, and the reviews have been definitely positive. Still, the 'language translation' service is not offered to the gay category anymore. Past experiences in translating 'I love you' to a Brazilian male has been too much for the skipper, and the gay guests are required to take care of their own communication system.
Telephone and Internet
Cadeau does not provide internet or telephone connections, although these can be readily available in most ports.
Traveling with Children
Children have been welcomed guests in the past and will always be. They usually have a better time than their parents. Still, we underline that children will always be under their parent's responsibility.
What to bring
Some items are strictly necessary, others are warmly recommended. Soft and deck shoes are the most important item for both, feet and deck protection. Sunglasses come second, for the combined effect of sun/sail/sea glare. Caps are cool, not absolutely necessary.
Skin must be protected seriously, possibly with the least oily lotions around, for lotions have the deplorable tendency to spill or be spreaded around by sun-thirsty skins, not to mention the absolute helming BAN to oily hands.
Dress: we strongly support a style/etiquette policy, and prefer a sober dressing style to a hawaian anarchy. Never forget something warm for humid and cool nights, remembering that cotton is generally useless to keep the skin dry. Better a light woolen or some of these new materials. We stress the importance of happy feet aboard, so always bring warm and dry socks. Light T-shirts to protect the from the sun. Bermuda and khakis, long trousers for the night (we are in the Med…), some nice shirts. A jacket for men for trendy nights.
Bad weather clothing: rarely needed in summer, some jackets and bibs are on the boat. If you have them, bring windbreakers and some polartec. If you sail off season, contact us for advice. Don't buy those overestimated expensive yellow jackets you tons of velcro just for few weeks of charter.
Brain nourishment: the boat is full of music and books, but it's not the congress library, so bring yours. No better places than a boat to read. Book exchange is active aboard, as long as it's not Grisham/DaVinci crap.
Crewed boats are well stocked in their pharmacy, while bareboat are not: bring your medicined with you in the second case, and all your personal medicines in any case. Bring some ammonia for jellifish stings. Bring insect repellent.
Cadeau has a 110 V system for small apparels, PCs, razors, battery chargers and so on. Not for hairdryiers.
Other: a small torch is never a bad idea. Walkman and personal MP3. Credit cards are widely accepted but ATM machines are rarely working or safe in many places. An alarm clock can be useful if you want to wake up to see the sunrise and for night watches (in crossings). Pocket knives have plenty of uses on a boat. Gloves have none. Personal binoculars for sightseeing.
NEVER bring rigid cases, white socks, precious items you might lose overboard or in the apparently bottomless bilges.